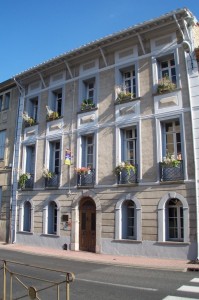 GPS
Lat: 42.615462
Long: 2.4184895
If Using GPS to find Prades town, please make sure you choose Prades in department 66, there are several in France.
Prades is 1 hour 50 minutes from both Carcassonne and Gerona airports.
Perpignan airport is only 40 minutes by car.
Barcelona is 2 hours 30 minutes away by motorway.
Roads from all 3 airports are mainly motorway and are well sign-posted. Wherever you commence your journey, initially follow signs for Perpignan. Even if coming from the Carcassonne area, we recommend you use the motor way via Perpignan unless you want to spend 5 hours driving on winding but very beautiful narrow roads.
From Perpignan
When you are in Perpignan follow the signs for Andorre, the RN 116 goes from Perpignan through Prades to Andorra.
On arriving at the first roundabout in Prades, follow the signs for "centre ville". Continue along this road, Avenue du Général de Gaulle, until you reach a give way sign (cedez le passage). We are just after the give way sign, on the left.
From Andorre direction
Take the RN116 road from Andorre following the signs for Perpignan. After passing through the vilage of Ria, you will see a large Lidl supermarket on your right. Take the next right for Prades, signposted "centre ville" and "Hotel de ville". You are now on Route de Ria. Continue along this road until you reach a give way junction. We are just after the give way junction on the right.