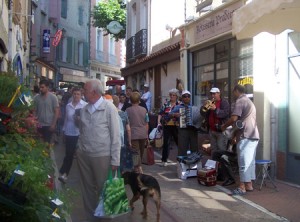 Prades is a typical market town in the green and fertile Conflent valley, 35 minutes from Perpignan and the coast. Nowhere in the department is more than 55 minutes drive away. It is served by bus and train costing 1 euro per journey, but ideally we recommend you hire a car to really get off the beaten track. Prades has a good selection of cafés and restaurants offering the delicious catalan specialties of the region, all 5-10 minutes walk from Maison 225.
We moved here from Ireland in 2007. We fell in love with this sunny scenic area, and our quality of life is second to none. We will be happy to help you make the most of your time in this area of outstanding natural beauty. Here are a few of our suggestions: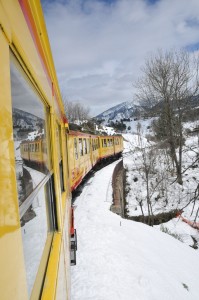 visit the Unesco World Heritage site of Villefranche-de-Conflent just 4 kilometres away. The little yellow train runs from here deep into the dramatic Pyrenees. Also don't miss the caves, just outside the village walls.
the Tuesday morning market in Prades is the biggest in the area. The stalls are laden with fabulous local produce -great for picnic ideas or buying presents.
some walking trails start just minutes from the house. We can lend you walking books and to finish off a day's hiking, why not soak in the hot thermal baths at St Thomas-les-Bains? This spa resort also has a sauna, jacuzzi and steam room and you can treat yourself to a massage.
climb to the summit of Mount Canigou in summer, 4 x 4 jeeps leave several times during the day for the mountain lodge Chalet de Cortalets and it is 2 hour walk to the summit from there. The jeeps wait at the lodge and bring you back to Prades. This is normally possible after the snow has melted from May to October.
the villages of Eus, Mosset and Evol are all less than 20 minutes drive away. These are officially classified as some of the most beautiful villages in France. Why not take a picnic and go for a walk in the hills surrounding these idyllic spots?
capture the history of the region by visiting the famous abbeys St Michel de Cuxa and St Martin du Canigou.
Don't forget your camera!